Executive Coaching
"Management is doing things right; leadership is doing the right things." Peter Drucker


Executives today are caught in times of unprecedented organisational change and complexity. They are forced to juggle several business aspects simultaneously. Whether their focus is on bottom-line results, cost reductions, globalization, IT or environmental issues -- the pressures are immense. Today's executives are dealing with diminishing employee and public trust, the loss of valuable intellectual capital and all the while are expected to do more with less. In the midst of all this, they are also expected to be proactive in developing their personal abilities and to recognize the importance of developing the people around them.

Executive Coaching not only delivers results but it also prevents problems. It integrates practical behavioral change over a period of time. Coaching deepens an awareness of your unique strengths as a foundation for improvement. Insight into how some behaviors can be career limiting motivates individuals to make change. We support this change in a safe, confidential environment.

As an executive, you will gain new insight into the key capabilities necessary to achieve your desired results. The one-on-one coaching relationship is designed to encourage purposeful dialogue, create new insight, develop new knowledge and skills, and spur personal growth.

By becoming proactive, executives have a new-found and unbiased resource with which to explore their vision, bring projects to completion, or investigate new opportunities. Sharing with someone from outside the organization offers a strictly confidential venue for you to receive an objective perspective. Since coaches have no personal agenda, you gain a true partner in helping you achieve what is most meaningful.


Our Coaching portfolio comprises of the following: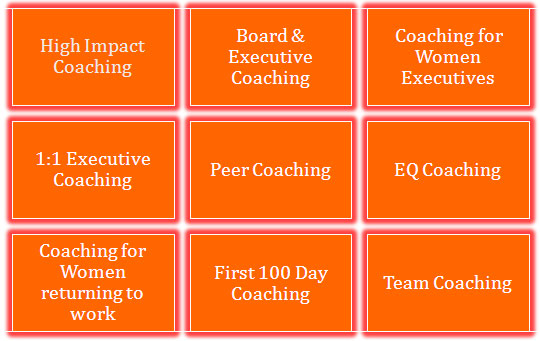 Comments from people who have experienced coaching from us:

"The coaching will teach you things about yourself that will help you influence others by better understanding them first."

"This coaching programme is a life experience for me and brings a new perspective to people development within organisations."

"It provided a different lens to view the issues of change and personal effectiveness in an organisation. To this extent, I feel the coaching is very useful and relevant to my work."

"This is really a journey which opens the mind, enables you to think outside the box of traditional behaviour and offers opportunities to shape your thoughts for lasting change."

"This is definitively not traditional training. This is a life experience. The journey is demanding, sometimes bumpy but it is really worth it."