Talent Acquisition
When you are inspired by some great purpose, some extraordinary project, all your thoughts break their bonds: Your mind transcends limitations, your consciousness expands in every direction, and you find yourself in a new, great, and wonderful world. Dormant forces, faculties and talents become alive, and your discover yourself to be a greater person by far than you ever dreamed yourself to be. Patanjali (c. 1st to 3rd century B.C.) Indian master and founder of Yoga


Outline of the Talent Acquisition process:
Our executive search process works as a truly collaborative understanding in the global workplace. The team has a clear understanding of the various industry verticals. We look at both the client and candidate requirements and are wholly committed and accountable to the mutual objective. Our goal is to build long-term relationships. Hence our team does not end the process once the assignments are completed. We provide long-lasting contact by offering leadership coaching and integration programs to facilitate a seamless result. Some of the sectors that our team has worked in are Automotive, IT, FMCG, Manufacturing, Public Sector, Hospitality, Professional Services, Banking & Finance, Retail and Telecom.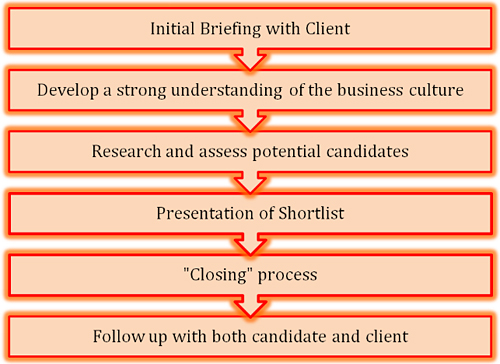 Executive Research & Industry Mapping
Our research team offers Executive Research & Industry Mapping services to Executive Search firms as well as to corporates. We offer tailored recruitment services to help our customers find the right candidate for a vacant position. As the needs vary per company and per sector, our involvement varies as well. We customize our processes to meet our clients' needs. We build the correct profile, develop a list of target companies, identify, verify and finally qualify candidates.
Our Executive Research and Mapping provides the following:
Providing a long list of candidates for interview by your own HR Team
Mapping of an industry, sector or company
Approaching candidates you know but may not contact directly
Assessing individuals' interest in specific opportunities and developing a candidate profile
Developing a bank of candidates to be called upon when required
Advice on research strategy, target lists and job specifications
Identification, approach and qualification of potential candidates
Acquisition of career summaries and CVs of 'hot prospect' candidates
Lowered cost of recruitment
Our team of experienced industry researchers and consultants can offer a flexible and refined approach to your recruitment needs. Our research capabilities are very broad and cater for every stage of the recruitment process. This includes gathering market intelligence and candidate identification projects through to the production of long lists for interview. We base our service on a proven methodology and our wide knowledge of commerce and industry, specialist training and our commitment and determination to achieve results.
The team of recruitment professionals and research experts possess the business resources to research at middle and senior management level, operating across most UK and international industry sectors and in both the public and private sector arenas. As independent researchers, we complete an off-limits client check ensuring all information is handled with utmost confidence at all times and our clients are kept informed throughout the process and advised of any conflicts of interest.